Fate: The Winx Saga has just released its second season, and it's one of the hottest limited series on Netflix right now. You can expect to see a slew of new faces along with familiar ones from the original Winx Club characters, like Flora who was absent in the first installment of the adaptation. Continue reading to get to know the growing ensemble of fairies and Specialists, as well as how they compare to the original cartoon characters. Disclaimer: there are spoilers aplenty in this article! 
Winx Club Characters: Winx Club vs Fate: The Winx Saga
There are plenty of characters from the original Nickelodeon Winx Club cartoon that have been included in the live-action Netflix adaptation. Given how lighthearted and kids-oriented the original series is, it comes as no surprise that these characters have been modified and adapted to fit Fate's darker, grittier nature. Here are eight examples of characters who exist in both the Winx Club and Fate: The Winx Saga. 
Bloom / Bloom Peters
Live action played by: Abigail Cowen
Like Winx Club's Bloom, Bloom Peters in Fate: The Winx Saga is a fire fairy studying at Alfea. Despite being stubborn and impulsive, she's very driven and has a good heart. These qualities are what make Bloom's magic the strongest in the original series, but she faces more issues in the Netflix adaptation. That said, both Blooms hold the rare power of the Dragon Flame. 
Despite their similarities, the two versions of Bloom are different in many ways. Live-action Bloom is a lot broodier and is portrayed as a loner. Unlike the original character from the animation, Bloom struggles with self-loathing and has severe trust issues, preventing her from making friends easily. This makes it all the more satisfying to see Bloom Peters trusting and depending on her friends over time. In season 2, we also find out that Bloom is actually over a thousand years old, another digress from the original plot. 
Stella
Live action played by: Hannah van der Westhuysen
Just like in the original Winx Club, Stella in Fate is a light fairy who's rich, vain, and egotistical. As the princess of Solaria, Stella has a lot of expectations to live up to. Naturally, she's keen on looking the best, and in the case of the live adaptation, being the best. Despite everything, Stella is still a good and loyal friend in both series — even if it took her longer to become one in the Netflix series.
Stella is one of the Winx Club characters that digresses the most from the animated series. What makes Winx Club's Stella so different from her Fate counterpart is how much darker the latter's personality is. She's more willing to do whatever it takes to succeed — even if it means putting others down. Though Fate portrays Stella as arrogant and condescending, she changes and becomes more like her original iteration by the end of the first season. 
Musa
Live action played by: Elisha Applebaum
A powerful mind fairy, Musa is one of Fate's heartthrobs and fan favorites. Seeing as she is a humble empath with beauty and compassion, many have asked "is Musa a princess?". The answer is no, and she doesn't need to be. In the Netflix series, she's one of the more grounded characters who was readily there for other Winx members. Although she might seem snide, aloof, and detached, she cares for her friends more than anyone. 
The two iterations of Winx's Musa have little in common. Among all the Winx Club characters, her magic changed the most in the Netflix adaptation. The original Winx Club's Musa is a singer, but her Fate counterpart is never shown manifesting her magic through singing, performing, or making music. Instead, Musa's magic in the Netflix series manifests as her ability to understand and control the thoughts, memories, and emotions of others. 
Flora
Live action played by: Paulina Chavez
Though the Winx Club's Flora didn't appear in the Netflix adaptation until the second season, there's no denying that she's one of the most prominent characters in both iterations. Flora is an earth fairy gifted with the power of chlorokinesis or the ability to control and manipulate plants. Like the others, she is also a student at Alfea, and she is kind, sweet, and sensitive to the needs of others. Her strongest suit is her gentle and caring personality towards her friends and nature.
There are numerous differences between the two iterations of Flora, though. In the animated series, she was shy and needed reassurance with romance. On the flip side, Fate's Flora proves to be a love guru, giving Aisha a pep talk about love and relationships. Another large difference is that Flora doesn't have a love interest in Fate, whereas she has a boyfriend, Helia, in the original cartoon. There's no telling what future seasons might have in store for her, however.
Aisha
Live action played by: Precious Mustapha
Aisha, or Layla in some versions of Winx, is one of the Winx Club's main characters that exist in both the cartoon and the Netflix series. As a water fairy, her powers revolve around the manipulation of fluids like water, petrol, and plasma. It's clear there are a lot of similarities between the Winx Club's Aisha in Fate and the cartoon. Both versions are level-headed, analytic, and outspoken, for starters. They are also big on fitness, taking regular exercise seriously so as to always be in tip-top shape. 
The two versions also do have their differences, though. In the live-action series, Aisha is far more serious and uptight, but she does soften up later on and even develops a romantic relationship with Grey, a blood witch disguised as a Specialist. Because there is no happy ending, fans believe that the following seasons might just see Aisha with Nex or Nabu, her love interest in the original animation.  
Riven
Live action played by: Freddie Thorp
Another one of the original Winx Club cartoon characters to appear in the Netflix series is Riven. Much like the cartoons, Riven is a bad boy who doesn't like playing by anyone's rules but his own. As a Specialist, there's no denying his skill, but he doesn't play well with others — something that often lands him in trouble. Fortunately, he matures and becomes a better person in both series. 
Both iterations of Riven portray him as rude, brash, and a bit of a bully. They both have romantic relationships with the antagonists as well, evident in how he dates Beatrix in Fate and Darcy in the cartoon. However, Riven's anger issues aren't present in the live-action series, where he cracks more jokes. 
Stormy / Beatrix
Live action played by: Sadie Soverall
There are no Winx Club characters named "Beatrix" in the original Nickelodeon series, but there is one named "Stormy" who bears plenty of similarities to Fate's Beatrix. The cartoon version also has the Trix: Winx Club's antagonists to which Stormy belongs. It's quite telling that Beatrix is inspired by the character of Stormy, especially since her adoptive father calls her "Little Storm" in the live-action series. Both air fairies, the two iterations also have similar personalities: rude, snappy, and very emotional.
Though she's considerably more intelligent in Fate, her backstory has been modified to fit the show's tone like most Winx Club characters. Beatrix becomes a much darker, vengeful character as a result. On the other hand, Stormy just has a foul temper. In Fate season 2, Beatrix becomes close friends with Stella, developing mutual trust and even sharing late-night drinks, something we do not see in the original animation. 
Prince Sky / Sky Silva
Live action played by: Danny Griffin
Its likely fans of the Winx series are familiar with Prince Sky, or as he's known in Fate, Sky Silva. Across both iterations, Sky has proved himself to be a dependable Specialist, a noble leader, and a skilled swordsman. In both the cartoon and the live-action adaptation, Sky and Bloom wind up as classmates at Alfea before falling in love with each other. Fun fact: Even their actors are romantically involved with one another!
There are, however, some key differences between Prince Sky from the original series and Sky Silva from Fate. For instance, the animated Winx's Sky is the only son of King Erendor, making him next in line to become king of Eraklyon. On the other hand, Sky in Fate is simply the son of a legendary Specialist with no royal blood in him. The newer iteration also presents him as Stella's ex-boyfriend, whereas the two were only friends in the original animation.
New Characters in Fate: The Winx Saga
There are many newcomers in the Fate: The Winx Saga characters that weren't adapted from the original series. Some serve as substitutes or stand-ins for characters in order to pay respect to the source material. Others are completely new, mixing up the dynamics to keep things fresh for fans of the Nickelodeon cartoon. 
Terra
Live action played by: Eliot Salt
Terra is one of the Winx fairies that exists only in the live-action series, unique in how her insecurities stem from being wanted and accepted by others. As an earth fairy, Terra has always been compared to Flora — her far more extroverted and well-traveled cousin. Despite her flaws, or perhaps because of them, she is one of the kindest and friendliest members of the Fate cast. 
One of the most controversial Winx Club characters, Terra served as a replacement of sorts for the character Flora in the Netflix adaptation. Though this isn't the case in the second season as Flora herself makes an appearance, Terra performed the same role as the Winx Club's earth fairy. 
What makes Terra an important addition to the Fate: The Winx Saga cast is how she serves as an example of excellent LGBTQ representation. While there are no homosexual characters in the original source material, Terra helped tell a new story. 
Sam
Live action played by: Jacob Dudman
Sam is an earth fairy gifted with the power to move through walls and other solid matter. He's Terra's older brother, and the two always look out for one another. Though his role in the story isn't as large as Terra's, he still manages to shine every now and then. In fact, he plays a much larger — and much more serious — role in Fate's second season. 
Though Sam doesn't exist in the cartoon, his role in Fate: The Winx Saga portrays him as someone similar to Riven and Miele, Flora's little sister. In the original series, Musa and Riven were dating. However, in the Netflix series, Sam plays the role of Musa's love interest from the first season up until the latter half of the second season. 
Dane
Live action played by: Theo Graham
Dane is a Specialist who knows his weapons inside and out. He always tries to do what's right — at least, initially. Things get complicated as he spends more time with bad influences like Riven and Beatrix. Smitten, Dane does whatever he can to win their approval — even if it means bullying former friends like Terra. 
Unlike Sam and Terra, Dane doesn't fill the role of any character in the original series. He's completely unique to the Netflix adaptation. No such character in the cartoon exists, especially since he has romantic scenes with both Riven and Beatrix.
Grey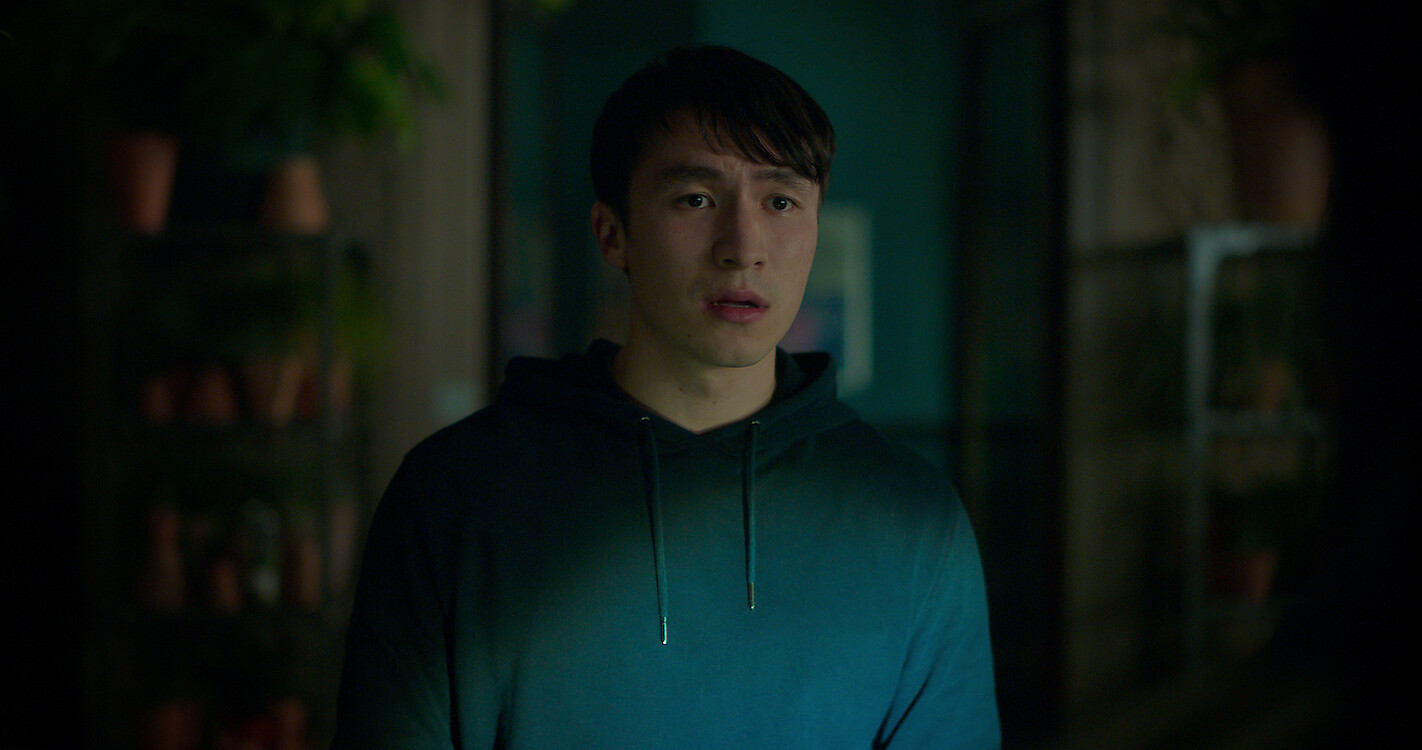 Live action played by: Brandon Grace
Grey is a blood witch disguised as a Specialist in Alfea who developed feelings for Aisha during their first encounter. Personality-wise, Grey is very similar to Aisha — loves swimming and is an overachiever with the incessant need to schedule. Their romance progressed slowly in the season and they do end up being a couple, though not for long. Grey's character is also a new adaptation specific to Fate.
Which Winx Club Characters Have Yet to Appear? 
Original Winx Club fairies like Tecna or Roxy haven't shown up yet, but there's still plenty of time for them to make their appearance in later seasons. This isn't the first time main characters have made late entrances in Fate: The Winx Saga, as Flora made her debut only in the second season. 
Other Winx Club characters like Brandon (Sky's best friend and Stella's boyfriend), as well as Specialists like Nabu (Aisha's love interest) and Helia (Flora's love interest), are also missing. The original Winx Club's Daphne (Bloom's biological older sister) has yet to make an appearance in Fate as well.
The main villains of Winx Club like the Trix, namely Darcy and Icy, have also yet to make an appearance. Fans have been anticipating them to make their debut in the third season — especially since Beatrix is Stormy. 
Preparing Yourself for Fate: The Winx Saga Season 3 
Though Fate: The Winx Saga's third season hasn't been announced yet, the story is far from over. Season 2 ended with a cliffhanger of Bloom reuniting with her alleged biological mother, though we do not get to see who she actually is. What's more, the series still has unresolved plot lines and characters from the original series that haven't appeared yet.
There's no telling how long the wait for the next season will be. In the meantime, it's best to check out Netflix series like Bridgerton — especially for people who enjoyed Fate.